Plan, share and manage upcoming vehicle, asset maintenance and repairs as well as user/driver training, health, and regulatory obligations with a complete calendarised schedule for your company. Set automatic reminders and notifications so you never miss an important event.
All repairs, maintenance records and costings are stored against each asset ID, creating a full-service history per asset.  This demonstrates that the asset has been maintained in line with the manufacturer's service schedule, and complies with DVSA guidance.
Event Types:
Whether you're scheduling vehicle, asset or user-based, you can plan, monitor and action all manner of tasks. From PMI, MOT and LOLER inspections, to driver medical, eyesight and licence checks. Quickly visualise your upcoming tasks with fully customisable colour coding options.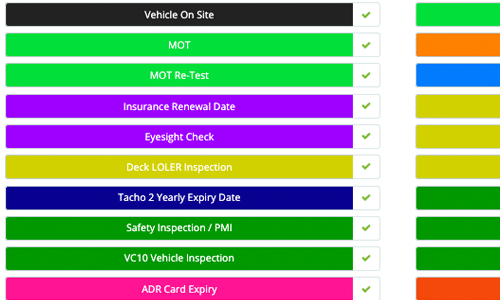 Scheduling Timeline:
The calendar functionality helps you to schedule PMIs, vehicle, and asset maintenance as well as driver/user task according to your timeline and preferences.
Setting service reminders in Vehocheck allows managers to stay up to date with preventive maintenance and other tasks. Visual indicators (pulse) help managers quickly see when a service, maintenance or other tasks are due.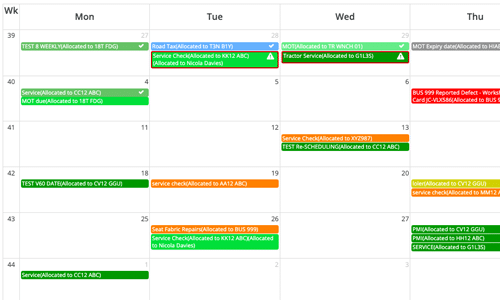 Automatic Scheduling of Calendar:
Things don't always go to plan and setting up a scheduling calendar manually for managing vehicles, assets and users are no different.
Reoccurring events like PMIs can be scheduled well in advance but what if you complete the PMI a week early? The automatic calendar schedule takes this into account and readjusts any future dates accordingly, so you do not have to.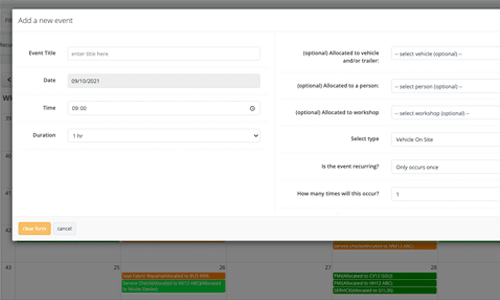 Customised Scheduling for Different Assets or Users.
Vehocheck helps you to produce a customised maintenance schedule for each vehicle that is a part of your fleet or assets that you use. Importantly, the number of vehicles and assets that you can schedule this way is unlimited.
Once all the vehicles and assets are individually, as well as collectively, placed in the schedule, it is possible to view the activities of each of them as well as view historical data for each.
Print and Export:
Going digital and moving from a paper-based maintenance wall planner may seem daunting but with Vehocheck is doesn't need to be.
The scheduling calendar can be printed by month as well as exported as a .ics file (iCalendar) and imported into other popular calendar apps such as Outlook and Google Calendar.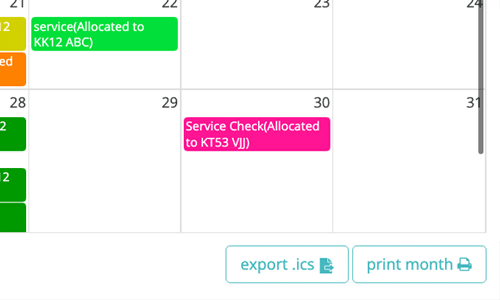 Different Views:
Changing your view of the schedule helps you better visualise upcoming maintenance and tasks. The Vehocheck Calendar Scheduler offers three types of views:
All of which can be viewed in calendar and list view for ease.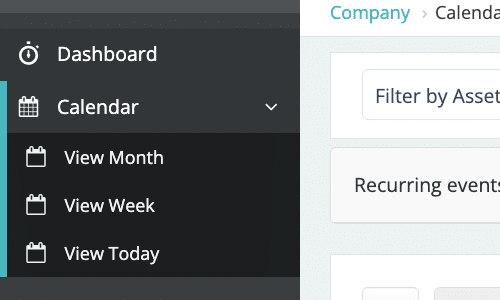 Filters:
Vehicle, asset, and user filters allow you to narrow the scope of one or more of the calendar tasks. By selecting values in the filter, you can rapidly view tasks by the relevant criteria such as registration number, asset, or plant ID as well as depot workshop and status etc.
Search by:
Depot/all depots
Asset category (HGV's, vans, trailers etc)
Asset type (Refrigerated trailer)
Workshop
Event type
Status
Month/Year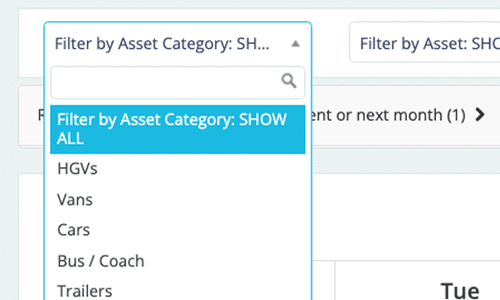 Rescheduling
Changes and alterations are a part of your business. You may need to suddenly increase vehicles on a particular route or alter the schedule of a vehicle's service inspection due to demands. But is your current scheduling process as flexible as you are? The answer is probably not.
Vehocheck simplifies this by automatically updating any future planned dates at the touch of a button. No more sifting through Excel documents or crossing out on a wall planner, once a maintenance date is brought forward in the Vehocheck calendar or completed, all future planned events are also brought forward.
Increase Transparency
Maintenance is one of the largest ongoing costs for fleets so managing maintenance costs is essential to maximising return on investment. A strong preventive maintenance schedule minimises unplanned/ad hoc maintenance and often lengthens vehicle lifespan.
When developing your fleet's PMI schedule, it is important to analyse the combined maintenance costs as well as the individual asset.
With Vehocheck, you will have all this data at your fingertips.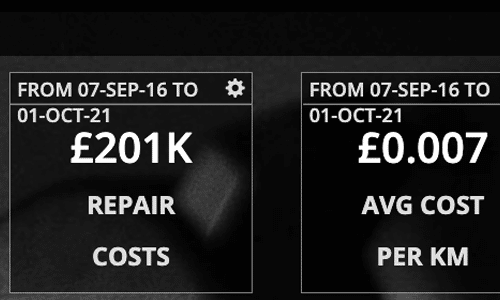 Schedule by Time, Miles, Kilometres or Hours
Setting service and maintenance reminders allows Transport and Fleet managers to stay up to date with preventive maintenance and other operational and regulatory tasks but not all vehicles and assets inspections are based on time.
As part of a Bus, Coach and HGV's operator's licence (O-licence), PMIs are required to be performed every 4, 6, 8, 10 or 12 weeks (due to O-licence conditions requirements), but what about Vans, Cars and forklifts?
With Vehocheck, you can schedule maintenance by weeks, miles intervals, kilometres and even hours.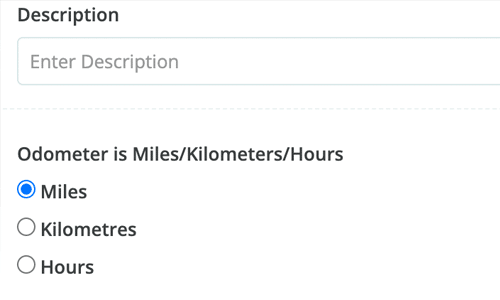 Alerts and Warnings.
Once you set up a maintenance schedule, the next task is to keep track of the vehicles/assets and their maintenance schedule. The automated system alerts and sends you notifications about the upcoming maintenance activities or even an overdue service.
The system makes use of colour coding as well as pulsing highlighting within the dashboard to emphasise upcoming tasks and due dates. Once you set the entire schedule, just forget it and the automated software will take care of managing it.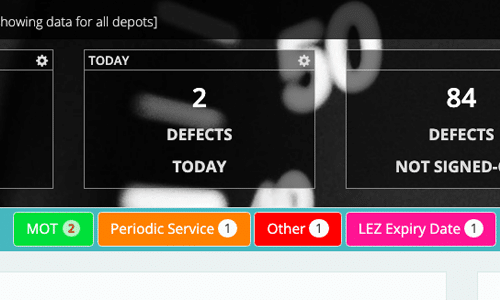 More Efficiency/Less Paperwork
Not only does replacing paperwork and moving to digital systems cut down on direct costs such as paper and ink, but it can also help your teams make more efficient use of their time.
Eradicating paperwork can also help to cut down on miscommunication and human error. Most Transport Managers, Fleet managers and operators know the difficulty of matching up defect reports, job tickets, maintenance etc between workers on the road, in the office and in the workshop– particularly if they contain incomplete or incorrect information.
Going digital eradicates this.
About Vehocheck

Vehocheck is a fleet management and compliance software solution for operators, drivers and workshops, which provides a fully traceable vehicle maintenance, compliance and repair audit for all your assets or vehicles.
The process from vehicle defect identification and managing the repair is enhanced through our workshop job card system, customised reporting to highlight driver behaviour and vehicle issues, with additional in-depth repair cost analysis.
By instantly delivering crucial asset or vehicle defect information, the procedures for correcting these issues can be expedited; enabling companies to maintain a productive, safe and compliant fleet.