Earned Recognition is a DVSA scheme for vehicle operators to prove that their organisation meets driver and vehicle standards, minimising the chance of vehicles being stopped for inspections.
What is DVSA Earned Recognition?
DVSA (Driver and Vehicle Standards Agency) Earned Recognition is a voluntary scheme designed to enable vehicle operators of all sizes to prove that their organisation meets driver and vehicle standards. DVSA Earned Recognition operators regularly share performance information with the DVSA in the form of a monthly report.

Vehocheck system is fully DVSA-compliant, enabling you to prove vehicle compliance at the touch of a button.
Our fleet management system provides comprehensive reports which include all details relating to your fleet
Submit regular reports to the DVSA, and your vehicles will be less likely to be pulled over for roadside inspections
Vehocheck demonstrates to the DVSA that fleets are practicing robust and timely compliance methods.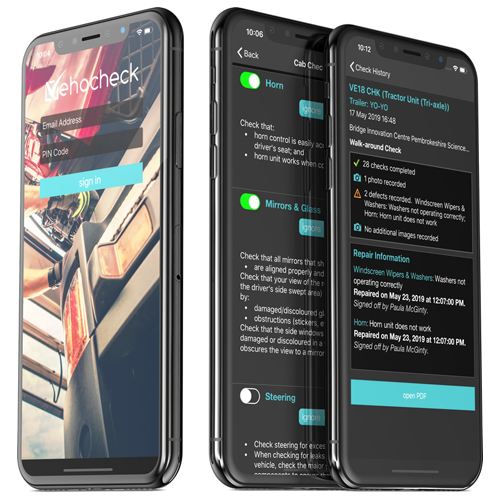 What are the Benefits of DVSA Earned Recognition for Operators?
By joining the scheme and gaining Earned Recognition status, the DVSA know that an operator is safe and compliant. In turn, this means that their vehicles are less likely to be stopped for inspections and checks.
You'll also be able to use your Earned Recognition status as a mark of excellence:
You'll be recognised as a DVSA-approved operator on the official GOV.UK list
You'll be able to use the DVSA earned recognition marque on your website and other publicity materials
You'll also be able to use your status in bidding and advertising to win new business
Vehocheck, a DVSA Authorised IT Supplier
Why was DVSA Earned Recognition Introduced?
Roadside checks cost operators both time and money, and the DVSA want to avoid targeting safe and responsible operators unnecessarily. For this reason, the DVSA Earned Recognition scheme was created.
This means that the DVSA are better able to target inspections and disruptive roadside checks. In turn this helps them to stop dangerous operators and drivers putting others at risk.
How does DVSA Earned Recognition Work?
As an earned recognition operator, you need to have IT systems in place to monitor vehicle maintenance, drivers' hours and to check that you are meeting a set of DVSA Earned Recognition KPIs (key performance indicators). 
These KPIs are in line with Operator Licence requirements, which means that Earned Recognition standard is not difficult to achieve if you are compliant.
Vehocheck: Save time, ensure compliance and increase efficiency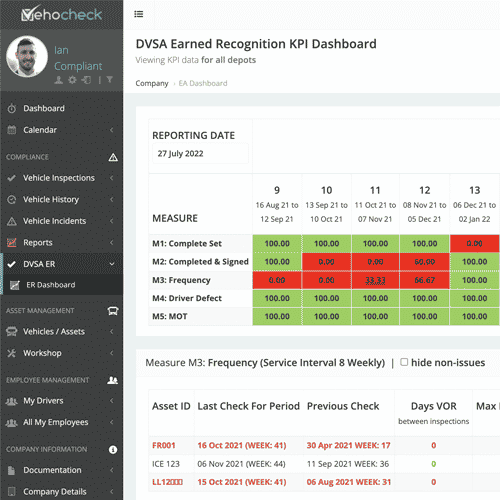 Vehocheck and DVSA Earned Recognition
Vehocheck gives you a 360° view of your vehicle compliance and provides a fully traceable end-to-end audit on defects and defect rectification as well as maintenance and inspections.
As a DVSA Authorised IT Supplier Vehocheck is developed to automatically measure and monitor KPIs, and we can guide you through the DVSA Earned Recognition onboarding process.
Already using Vehocheck
You can assess your Earned Recognition status before joining the scheme, simply by selecting the Earned Recognition tab from the menu.
Want to know more, get in touch