Commercial Vehicle Incident and Accident Reporting
Accidents and incidents aren't nice, but they do happen. What's most important for you as a business is having a robust accident reporting policy in place. That means if an accident or incident does occur, you have everything you need to begin the accident management process.
Collecting critical information, getting immediate help and real-time reporting whilst at the scene is very important and the Vehocheck accident/incident reporting feature enables you to capture these details right from your mobile device.
Our incident/ accident reporting feature is simple to use and intuitive. Vehocheck users are already accustomed to our app and digital reporting so they can instantly fill out a digital incident/accident reporting without the need to log in to another unfamiliar app which can often add to the stress.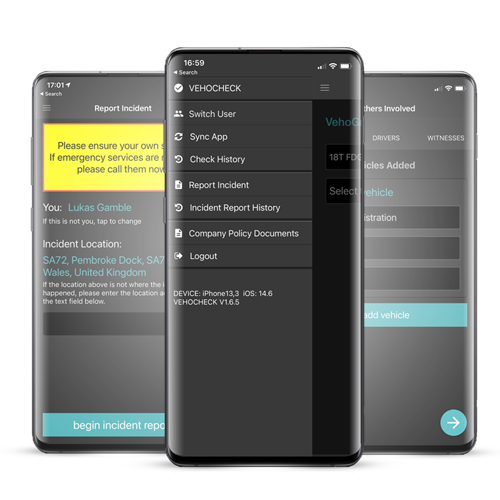 Digital Incident Reporting
Our commercial vehicle incident/accident App is similar to a paper-based report but better! Unlike a paper incident report, it collects more data which can include photographs, location, date and time as well as all 3rd party details.
Report incidents/accidents from a mobile device
Monitor incidents as they are reported live
Capture images of the scene, vehicles, road layout and more
All reports are date and time stamped for better accuracy
The accident/incident location is recorded and can be viewed in the dashboard.
All reports are tamper-proof
Real-time reporting enables you to start your accident management process sooner.
Assign and escalate incidents within your company
Configure custom alerts and notifications to the right person or department.
Access historical data anytime, anywhere.
Ensure DVSA Compliance and Manage your Fleet with Vehocheck
The Insurance "Golden Hour"
Most insurance companies aspire to receive First Notification of Loss (FNOL) within the first 24 hours however, with Vehocheck, FNOL is dramatically reduced. It only takes a couple of minutes to fill out the incident/ accident report at the scene and once submitted the report is sent in real-time to the line manager who can escalate the incident both internally and externally.
When it comes to minimising costs after an incident involving a third party, timing and recording the right information are everything.
"Accident management provider FMG estimates that failing to capture third-party information can inflate overall incident costs by 965%, turning a £1,000 bill into a painful £10,650, Key to keeping these costs as low as possible is making the first notification of loss (FNOL) as soon after the incident as possible"
Contacting your Insurance or accident management provider – ideally within the first hour – means there is less chance of drivers being approached by organisations that can lead to the costs for replacement vehicles and injury claims spiralling out of control.
Unfortunately, if you've had an accident, there is a whole industry waiting to make money out of it.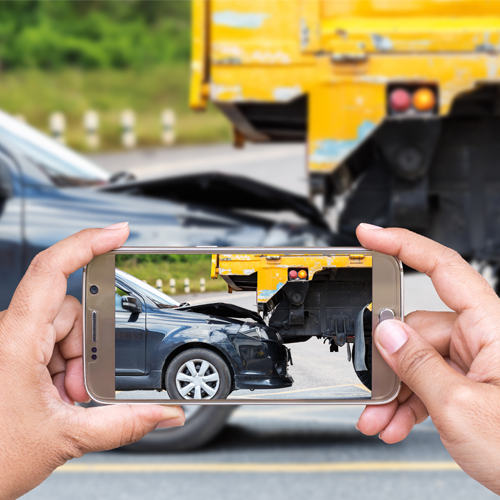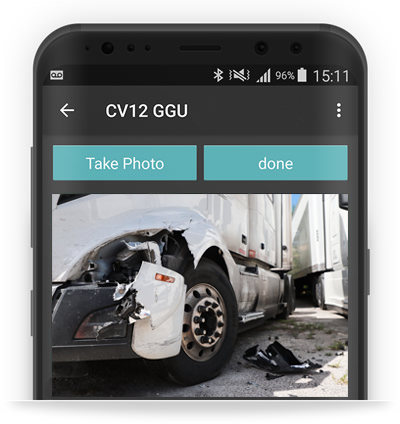 Image Capture
Eliminate confusion and increase transparency when it comes to incident/accident reporting with images. The Vehocheck app lets you take unlimited photos of the incident which aids the accident management process. Send reports directly to your line manager, SHE manager and Human Resources so they can visualise the incident quicker.
Take unlimited photographs of the vehicles involved, the road layout and the scene.
Images can often reduce the need for line managers to visit the site.
Excellent photographic quality on images received by the dashboard gives clarity of the incident.
Add pictures of driving license and insurance documents which will be included in the report.
Instant Alerts and notifications
Real-time reporting helps you monitor incidents and accidents as they happen, as soon as the incident report is submitted, all designated people will be instantly notified of the incident/accident and if the driver has requested immediate assistance, you can quickly view the driver's location, dispatch assistance and/or call them.
Receiving incident/accident information quicker helps the accident management process start earlier and you can deal with claims sooner, organise repairs and reduce the need for replacement hire vehicles.